"Using behaviour and contextual targeting is very much like treating your customers as your first love."
"What if I told you that you could increase your mobile sales by 300% in less than a year by using two simple tricks?" We often see these promises for huge boosts in sales in blog titles and on sidebar ads – the question is, are the results being advertised for real, or is it just a ploy to get our attention? While we can't vouch for every sales boosting tool out there, what we can tell you is that Sephora did boost their sales by 300%.
By understanding that website experience now revolves https://concept9.ca/wp-admin/post.php?post=99&action=edit&nginx_helper_action=purge&nginx_helper_urls=all&_wpnonce=6b6ce6c835around the consumer, not the product, Sephora was able to achieve a rate of growth that few imagined was possible. Okay, so how exactly did they do it – don't all businesses know that the consumer is king (or queen)? Well, yes and no. While companies have long recognized the importance of consumer experience, surprisingly few actually do anything about it.
Here's what Sephora did differently:
Contextual targeting – By recognizing that a large amount of their website traffic came from mobile, they made mobile their priority and focused on delivering a flawless platform that focused on utility and usability.

Behavioral targeting – By measuring and analyzing the patterns when and how consumers shopped, they were able to target their messaging and content for the optimal usage times on smartphone and tablets.
The popularity of behavioral and contextual targeting is on the rise, with HubSpot and Optimizely already making a name for themselves in this field. In the past, only large scale corporations have the ability to implement this technology. However, with the rate at which this new form of marketing is gaining steam,we have reached a point where all businesses, be it a small start up or a medium size family own business, are able to join the big guys on this next step in the world of digital marketing.
Before we embark on this journey towards the world of behavioural and contextual targeting, let's first dissect what they actually encompass…
What is behavioural and contextual targeting?
Different consumers have different wants and needs. When they visit your web page, they will only engage with your web page if they find content that is relevant to their needs. As such, a generic and simplified front page will drive users away. When presented with run-of-the-mill content, your web visitor will likely assume that you do not offer what they are looking for. Alternatively, packing your homepage with content for everyone would only overstimulate and consequently, overwhelm the consumer.
In order provide the optimally pleasing as well as resourceful user experience for the consumer, we must understand their needs.
One way of catering to a user's needs is through behavioral targeting. This is a  technique by which web publishers and advertisers track the online activity of a specific user on a webpage.
By inserting a browser cookie into the user's hard drive (this is done automatically upon web page visitation), it is possible to track the user's browsing behaviour, things like what page they have clicked on or how long they have been on each page.  As the user browses the web page, more and more cookies are created and collected. You can think of each cookie as a piece of information about your user's web experience.There is also tracking software which allows for the recording of user's mouse movement and placement, as an indicator for user's point of attention.
Combining this with contextual targeting creates a powerful personalization experience. Contextual targeting examines the circumstantial information of the user's visit. For instance, the category or keyword of the current web page, the media platform on which users are viewing a web page (i.e. mobile or desktop), and the time and location of the visit.  
Through a combination of behavioral and contextual targeting, you can effectively improve your marketing funnel by:
Attracting

visitors to your site and lower your bounce rate by immediately engaging with their needs

Nurture

visitors with relevant content

Convert

visitors to consumers by consistently providing a fluid and enriches user experience
Ultimately, the utilization of these two techniques help build a system which automatically learns and subsequently decides on which online advertisement will be used to target visitors based on his/her previous and current recorded behaviour.
Targeting and  content personalization
In our previous post on content personalization, we mentioned that the importance of customizing your content and product offering. Behaviour and contextual targeting is the process by which we craft this profile. To effectively attract and retain a consumer, we must first get to know them.
Think back to the time when you were in high school and had your very first crush. Before approaching them, I bet you tried to find out everything there was to know about them, just so that you could say the right thing at the right time. Without even knowing it, you were trying to attract their initial attention, nurture their interest by keeping them engaged and convert them from a potential romance to an actual boyfriend/ girlfriend.  
Using behaviour and contextual targeting is very much like treating your online consumers as your first love.  As, we all know, first impression is everything. Your crush might be more forgiving if you fail to make a good first impression, but your consumer won't. Research has shown that 88% of online consumers are less likely to return after a bad experience.  
As such, to my fellow marketers (and romantics) out there, in order to entice and retain your online consumers: you must:
Observe them (behavioural-contextual targeting)

Learn and make sense of their browsing history and behaviour (segmentation)

Offer them what they desire (content personalization)
Only after this will you earn your consumers' trust and loyalty! (Now that is the romance of the century!)
But, why the hype with targeting and personalization?
So, what's the big deal with targeting and personalization? In short, they are effective!
In a recent Polish study (2007), using real industrial data set concerning online advertisements, Joanna Jaworska and Marcin Sydow, reported that adaptive system (i.e. personalized content based on behavioural and contextual targeting) can significantly increase the click-through- rate (CTR) up to 40%.
According to a survey conducted with 12 advertising networks, Network Advertising Initiative reported that the conversion rates for the advertisements that are targeted and personalized are 6.8%, compared to only 2.8% for the generic ads. In other words, consumers who click on ads that are targeted specifically to them are twice as likely to buy the advertised offering.
Personalization doesn't need to be complicated, even simply targeting your consumers based on their geographic location is sufficient to improve your conversion rate. Verve Mobile reported that after comparing data from its 2,500 advertisement campaigns, the mobile ads that were geo-targeted performed 50% better than the rest of the campaigns.
What about B2B businesses?
Spear Marketing Group and TechValidate conducted a survey of U.S. B2B marketing professionals and the results they found indicated  that marketing automation (the umbrella term for targeting and content personalization) is the most effective marketing tool to deliver high ROI. Furthermore, the companies rated content marketing and marketing automation among their top priorities. Right now, 9/10 B2Bs are investing in content marketing, and we can  expect it to rise to 10/10 in no time!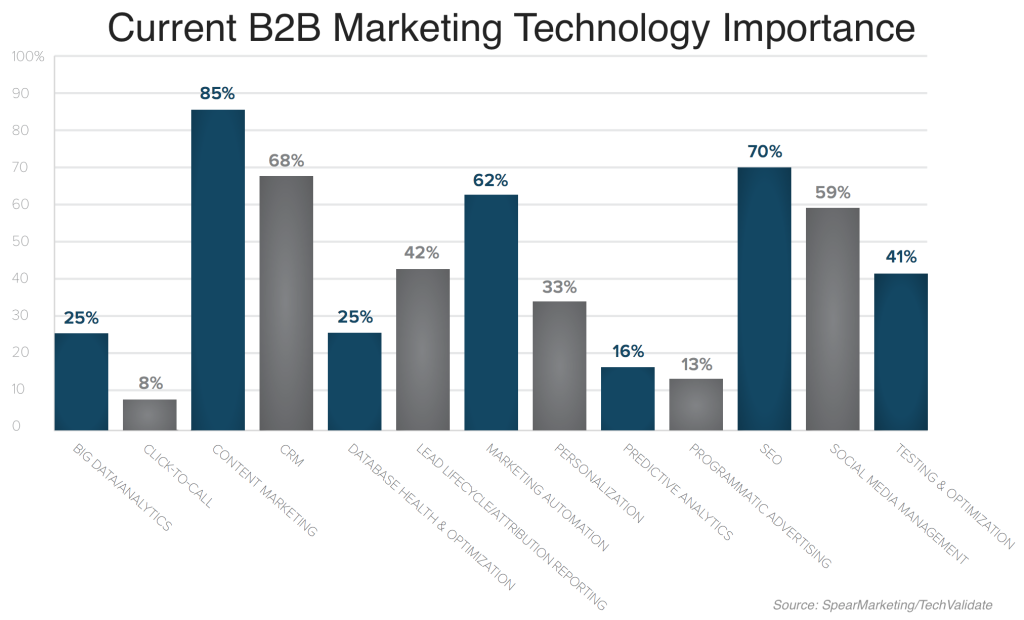 Too much personalization? A word of warning…
Lastly, despite the success that targeted ads can bring, it is important to remember that among the Millennials, the idea of invasion of privacy is of particular sensitivity. As a marketer, you want to be careful when executing your targeting and content personalization strategy. Studies show that web visitors approve of their privacy being infringed upon if it for their benefit. What does this mean for you? Well, it means that personalization, when used correctly to provide a flawless user experience, can yield great results in every stage of the marketing funnel. But when not used carefully, it can backfire, making you seem like creepy stalker. And no one likes a creepy stalker.